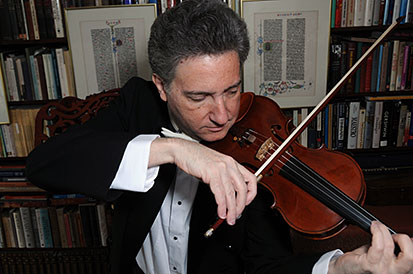 New York native violinist Raphael Klayman has been internationally praised for the beauty of his tone, the depth and flair of his musicianship, his vivid rapport with audiences, and his rare balance of virtuosity and sensitivity. He has shared these qualities with audiences through such media as radio, television, concerto performances with orchestra, and innumerable recitals – including a New York Debut at CAMI Hall and a European Debut in Geneva Switzerland, where he performed at the International Red Cross Museum and at the Palace of Athena. His Geneva Debut formed part of Concerts Atlantique's 1990 European International Festival. Selected through competitive auditions, he was among 54 soloists or ensembles chosen to perform at the Festival from over 1,400 applicants and was one of only two solo violinists so chosen. Other solo highlights have included an appearance at the Kennedy Center in Washington D.C. He has also performed chamber music in a number of venues, including New York's Merkin Hall. He has enlarged his repertoire in a personal way by composing many cadenzas, several short pieces, and making numerous arrangements.
In addition to his solo and chamber music activities, Raphael Klayman has played in the American Symphony Orchestra, the New York Pops and various fine ensembles in New York and New Jersey, frequently serving as Concertmaster. Always specializing in classical music, he has been very active in popular music as well. He has worked with Tony Bennett and was invited to be Concertmaster for a Broadway tour of "Miss Saigon". He has served as Concertmaster for Ray Charles, Regis Philbin and Clay Aiken. He also appears in an award-winning music video with Rascal Flatts.
In earlier seasons, Mr. Klayman toured the U.S. three times as a member of the Goldovsky Opera Theatre. He also toured throughout Japan as a member of the New York Symphonic Ensemble, with whom he has also worked in New York's Alice Tully Hall and Carnegie Hall. He is Concertmaster and Personnel Manager of the Angelus Orchestra.
A graduate of the Mannes College of Music in New York where he was a recipient of several scholarships, he also holds a Certificat de Stage from the Centre International de Formation Musicale in Nice, France. His early studies were with two former pupils of the legendary pedagogue, Leopold Auer – Harry Fratkin and Vladimir Graffman. His later teachers included Regis Iandiorio, and he undertook advanced training with three of America's most distinguished virtuosos – Glenn Dicterow, Aaron Rosand, and Charles Libove. His chamber music coaches have included Paul Doktor, Claus Adam, and Lewis Kaplan.
Raphael Klayman's instruments include a number of fine and rare non-violin family and non-western instruments. His violins include three custom-made for him by Edward Maday and three violins custom-made for him by Vittorio Villa. His bows include woks of Simon, Bazin and E. A. Ouchard. His many non-musical interests include other aspects of the Arts and Humanities, reading, book and art collecting and Yoga. He has been listed in the Marquis "Who's Who in Entertainment" and "Who's Who in Emerging Leaders in America", as well as the American Biographical Institute's "International Book of Honor". He also devotes a portion of his time to teaching.
Mr. Klayman's solo CD's are available on the GuarneriRecords label.