A Tale of Two Fiddles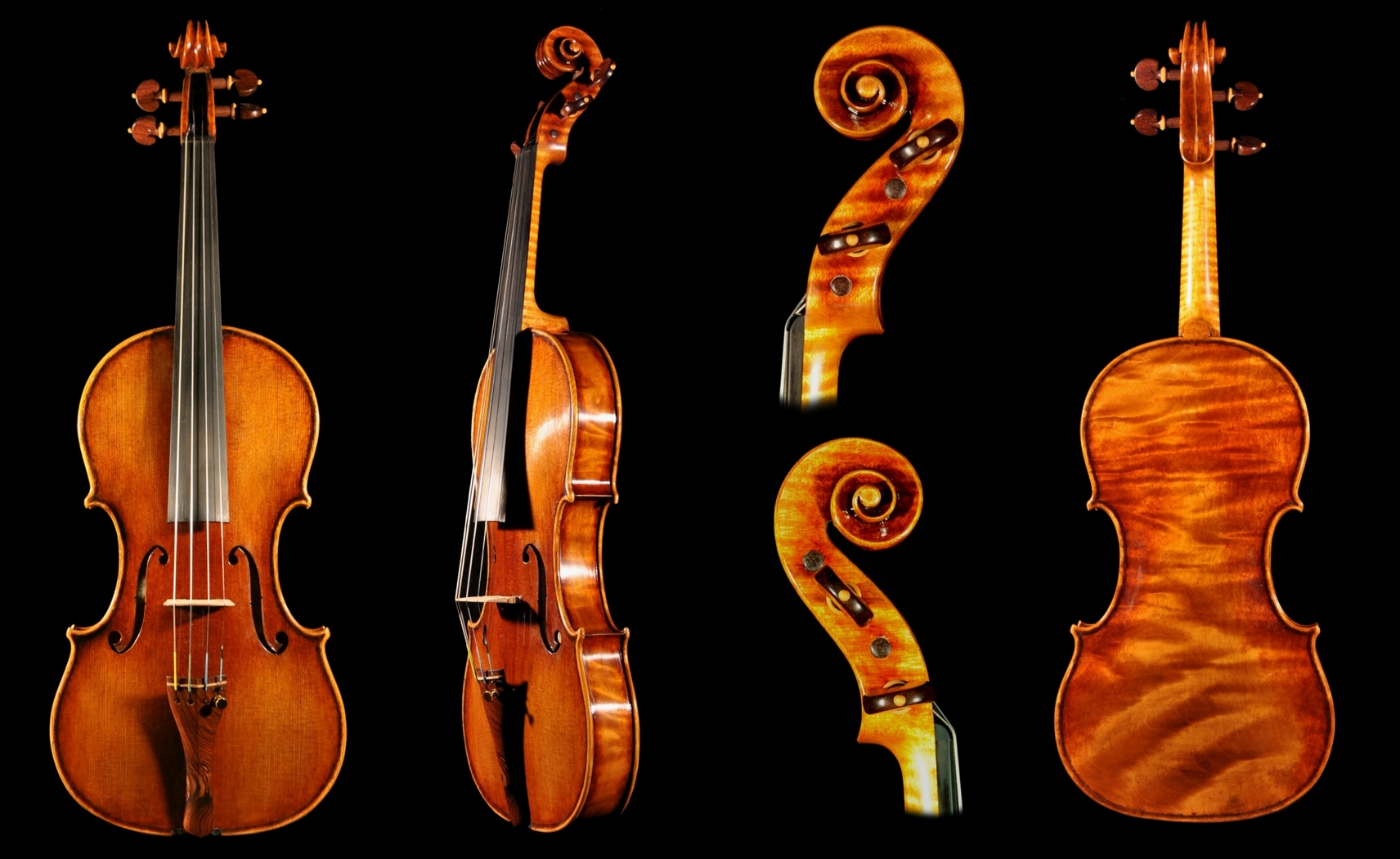 Vittorio Villa 2010 "Michelangelo"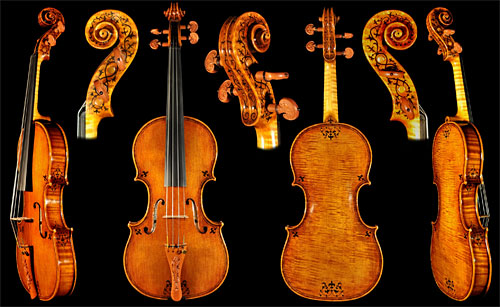 Vittorio Villa 2011 "Leonardo"
"Strings" magazine has had articles interviewing players about characteristics of their respective instruments. They call it "What's in the Case"? As a confirmed fiddle fanatic, I have enjoyed these articles very much. These "Strings" interviews always follow a set pattern. They begin with a short assessment of the instrument, and the bow and which strings the player uses with it. That is followed by a series of fairly set questions. I have decided to interview myself using almost the same format, and see what I come up with. There will be one twist, though. As I currently own about 10 violins, it's all I can do to limit myself to two, and may make occasional brief reference to others in my collection.
Player Raphael Klayman
Instruments Violin by Vittorio Villa, anno 2010, del Gesu model, and violin also by Vittorio Villa, anno 2011, Amati model. I will focus for now mainly on these two.
Each of my violins has certain unique qualities that the others don't have. I have 3 excellent violins custom-made for me by Edward Maday, 3 custom-made for me by Vittorio Villa, an excellent French violin by Desiré, anno 1854, a Peter Lam, and a fine Chinese Strad model. You see how hard it is to narrow it down even to two? But lately I have been carving up the solo and chamber repertoire mostly between my del Gesu model Villa and my Amati copy Villa.
Physical Characteristics The del Gesu model is freely based on the famous "Lord Wilton" del Gesu, which once belonged to Yehudi Menuhin. The overall modeling is fairly close to the original, though to my eyes, this original creation has a more a more Strad-like scroll in an otherwise del Gesu model. The amazing wood for the back, which we chose together, makes no attempt to even approximate the original. Rather than the more usual quarter-cut maple, this back is slab-cut with a broad and irregular pattern. The ribs are of matching wood. The varnish is red, shaded over a golden yellow ground, and softly antiqued. It makes a bold and beautiful statement.
The Amati model, on the other hand, is a very close copy of the "Prince Youssoupoff" Amati, and includes elegant decorations very closely matched to the original, which are not painted on, but rather are inlaid - something very labor intensive. The varnish is a light golden brown with just a hint of worn red, very subtly antiqued. The scroll, and every other detail is done with great beauty and delicacy. It looks exquisite.
Condition Mint
Bow I have even more bows than fiddles - 17 at last count! But for both of these violins and for two others, I use a wonderful bow by EA Ouchard, circa 1920's.
Strings Vision Solo (non titanium) - medium gauge. I just started to come away from the over-priced Vision E to the bargain priced, but very good Golbrokat.
IS THIS YOUR PRIMARY VIOLIN?
Right now, these two, the del Gesu and Amati model Vittorio Villa violins, are my primary violins for most solo and chamber music.
HOW DO THEY COMPARE TO YOUR PREVIOUS VIOLIN(S)?
Juggling so many, I'll focus on comparing mainly these two violins. They are as different, tonally, as they are in appearance. The del Gesu model has a rich, warm, broad, round and vast tone, with a good deal of presence. Overall, it is on the dark side - especially on the lower strings, with more brightness on the upper strings, yet it all sounds of a piece. For example, the G has a richness and sonority almost suggesting a cello, the A and E are brighter and more cutting, but the strings do not sound like they belong to different violins. It has a lush, sensuous quality, a 'chewy' texture on many notes, and a noble tone.
The Amati model is much brighter, with a good deal of brilliance and cutting edge. I've sometimes thought of it as a beautiful laser cannon in sound! The tone, especially on the lower strings, is leaner and a bit dryer - yet in a good way, kind of like a fine dry wine that makes your mouth pucker. It gives me the feeling of a great deal of harnessed horse power, just rarin' to go! When I play on it, there is an immediacy of response and a feeling that the sound is spinning out quickly into whatever space - large or small - that I am playing it.
The sound of a violin often reminds me of other things, such as singers, other violinists regardless of what instruments they play, other kinds of instruments, painters, wines, horses, cars, colors, flavors - even deserts! Accordingly, I will compare these two Villa violins in a respective way.
The del Gesu model - Placido Domingo, Pinchas Zukerman, a French horn, Rembrandt, a fine red wine, those Viennese show horses, a Rolls Royce, purple, maroon, chocolate, caramel, a delicious ice cream sundae.
The Amati model - Pavarotti, Perlman, a trumpet, Turner, a fine white wine, a race horse, a Ferrari, orange, gold, citrus, a refreshing creamsicle.
For repertoire, the Amati model would be my choice for the Mendelssohn concerto, Vivaldi's "Spring" and "Autumn", Bach's E major Partita, and Mozart's 4th concerto, among others. The del Gesu model, I would prefer for most of the other Bach works, Vivaldi's "Summer" and "Winter", Mozart's 3rd concerto, and concertos of Beethoven, Brahms, Bruch, Tchaikovsky, Sibelius, etc. In my recent unaccompanied recital program, in the first half, with the A minor sonatas of both Bach and Pisendel, I chose the del Gesu model, which fit better with the more somber and solemn characters of these works. For the more brilliant and glittering caprices that comprised the 2nd half, I chose the Amati model. The choices aren't always so clear-cut. I would have thought that the Saint-Saens Rondo Capriccioso would be best served by the Amati model, but I prefer certain passages of it on the del Gesu model. Similarly, I chose to play the Paganini caprice no. 9 on the Amati model. Overall it's the clear choice. But if I ever were to record it, I'd be tempted to use the del Gesu model just for those passages on the lower strings that are meant to suggest French horns. If I were to record the Bach Double Concerto by myself, I'd use the Amati model for the 1st violin part and the del Gesu model for the 2nd part. I do not mean to suggest at all that "first" means better here. Rather, that the Amati model would best fulfill the soprano role, and the del Gesu model would best fulfill the alto or mezzo role.
WHAT GIFTS DO THESE VIOLINS BRING TO YOUR PLAYING, AND HOW DO THEY INSPIRE YOU AS A PERFORMER?
They help me both qualitatively and quantitatively. Their strength and projection give me the confidence to know that I can get the job done without over playing. And their colors help me to shape the character of the music.
WHAT IS THEIR HISTORY?
As new violins that I specially commissioned, their history and provenance begins with me! I do not align myself with one camp or another in the old-vs.-new debate. There are great and and so great old and modern instruments. But the past several decades there has been a real Renaissance of instrument and bow making throughout much of the world, and I am glad to be something of a patron of the arts in this regard! I can honestly say that my del Gesu Villa model bested the "Baron von der Leyen" Strad and a fine Guadagnini in opinions besides my own. My Amati model has a similar kind of incisive brilliance to the "Molitor" Strad, but with more bottom and more colors. Yet possibly the most beautiful violin I've tried so far is a particular Amati.
When you hold an old violin in your hands you want to ask it "Where have you been? What stories could you tell if you could talk and not just sing?" That's an intriguing feeling. But a fine new violin yields a different kind of satisfaction. You hold it and wonder what its future will be. How will you both grow together? And if you commission a violin directly from a maker, to a significant extent you choose the wood, the model, the color etc. together. Little by little you watch it take shape. Then you start to bring it to life with your fingers and bow. I remember my first commissioned violin from Ed Maday. I went to his shop, we discussed various things and we chose the wood. To an untutored eye the pieces of wood we ended up with on the table were just pieces of wood. But we knew better. "There", said Ed. "There is your new violin." Two years later, it was! Ed and I are both in the New York area and he is an hour's drive from me. Vittorio is in Cremona, Italy. But we kept in touch by e-mail. Every commission has been a thrill!
WHAT ARE YOUR VIOLINS' PERSONALITIES?
My analogies earlier to cars and horses suggest some of their respective personalities - though they are more complex than any one or any several analogies can completely capture. But the Amati model does sometimes make me think of a race horse that just can't wait to charge out of the starting gate, or a great sports car like a Ferrari. The del Gesu model certainly has a lot of horse power of its own, but in a more dignified way.
WITH SUCH DIFFERENT INSTRUMENTS DO YOU HAVE ANY PROBLEMS SWITCHING BACK AND FORTH WITH INTONATION, RESPONSE, ETC.?
Switching is not without its challenges. And keep in mind that I have seven others right now! And I do give each one a certain amount of playing each week. Somehow though, it's fun for me, and it rarely takes more than a few minutes to be pretty much at one with the violin I've switched to. It's not an approach for everybody but it works for me. After playing the Amati model for a while and suddenly switching to the del Gesu model, the latter, though it now has all the core and focus I need, can initially seem just a tad lax in its tension in comparison to the laser-like incisiveness of the Amati model. In the opposite case, initially - especially in a small room as opposed to a hall - the Amati can seem a bit shrill. But again, these reactions are very temporary. It's not long at all in the switch before I revel in the rich sensuousness of the del Gesu model and the bracing, refreshing quality of the Amati model.
WHAT ARE YOUR VIOLINS' LIKES AND DISLIKES?
I find that all of my violins - including my 19th century one - are pretty stable. For a while, my del Gesu model Villa had a tendency to get a little soft in the humid weather. But since its last sound-post adjustment it's been a lot more consistently focused.
DO YOUR VIOLINS HAVE ANY WEAKNESSES?
Not really. If you want to be hypercritical you can always find something to pick on in any violin or any violinist, for that matter. I'm a very satisfied customer.
HAVE YOU GIVEN YOUR VIOLINS NAMES?
I've given almost all of my instruments names - including my piano and organ! Vittorio encourages his customers to give their violins names, and this becomes part of their record. Many customers name their violins after relatives. Ordering a custom-made violin from Italy, I thought of the classic artists of the Italian Renaissance. So I called my first one - a Strad model from 2009 - "Raphael". (What can I say?) Then came the two violins I'm focusing on here. My Villa del Gesu model from 2010 is named "Michelangelo" and my Villa Amati model of 2011 is called "Leonardo".
HAVE YOU EVER DONE ANYTHING, SUCH AS REPAIR OR CHANGING STRINGS, THAT HAS ROBBED THE INSTRUMENTS OF THEIR "MOJO' - WHAT WAS THE RESULT?
I don't believe that the "mojo" or special magic of a violin's sound is all that ephemeral. I have had adjustments made to all of my violins along with string changes. Together with lots of playing, their sound has only improved! "Michelangelo", the Villa del Gesu model, has developed more core, focus and presence, along with the richness and warmth that it always had. I'd say it's now about 25% better than it was when it beat out the Strad and Guadagnini I referred to above. Earlier, I had compared "Leonardo", the Amati model to a creamsicle as opposed to "Michelangelo's" ice cream sundae. At an earlier point I would have used the analogy of ices or a refreshing sorbet. But indeed, while "Leonardo" leads with the ices part of the creamsicle at the surface, more of the inner cream comes through as well. Both of these violins not only have fine, albeit very different timbres, but also a complexity that keeps me happy playing on them for long periods and makes me want to return to them.
IF YOUR VIOLINS COULD TALK AND YOU SAT DOWN WITH THEM FOR A CUP OF TEA, WHAT MIGHT YOU SAY TO ONE ANOTHER?
Well, I'd order the cup of tea. I think my violins would each order a bottle of violin polish! Anyway, I'd like to tell them how happy and blessed I feel to have them in my life. I'd like to think they'd feel the same way!
UPDATE, 2017:
While each of these violins retains its distinctive voice, in some respects they have moved somewhat towards meeting in the middle. In the process, each has improved in just the ways I would have hoped: "Michelangelo" retains its depth, richness and sweetness - but it has gained more edge and a more concentrated sound. "Leonardo" is still bright, clear and brilliant - but it has also developed more breadth and depth, especially on the lower strings. I usually use my E. A. Ouchard bow with "Leonardo" and my Louis Bazin with "Michelangelo". I also continue to be happy with my two Maday violins with which I usually prefer to use my F. R. Simon bow. The Desire and a few other violins I've had have found new homes.