How Do You Get to Carnegie Hall?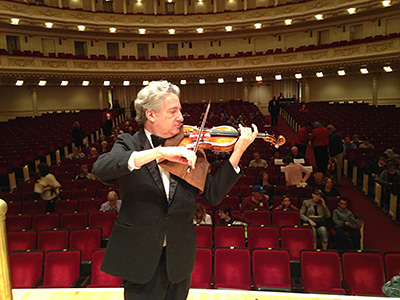 It's one of New York's oldest jokes: A lost and confused pedestrian somewhere on the streets of Manhattan stops another and asks "can you tell me how I can get to Carnegie Hall?" The man who was questioned thinks for a moment and replies "practice, practice, PRACTICE!" Indeed Carnegie Hall is both a place and an achievement, a piece of architecture and state of mind. It is one of the Western Hemisphere's most iconic centers for the performing arts and it has pretty much been so ever since Tchaikovsky conducted its inaugural concert in 1891. With its excellent acoustics and central Manhattan location, Carnegie Hall quickly became a magnet for already great - and aspiring to be great - musicians. And a successful performance there took on a special aura and status. Some of the most legendary names in music have looked upon performing in Carnegie Hall as no small achievement – truly a special moment of arrival not to be lightly undertaken. And without doubt such a performance would be preceded by lots of practice. Small wonder that the actual building on 57th Street and 7th Avenue and what it represented could easily be interchanged - as the joke implied.
To the aspiring violin student that I once was and later, to the professional violinist that I became, Carnegie Hall has always represented a very major focal point for the tradition of great musical performances and experiences. A few personal anecdotes stand out in my memory:
I heard great orchestras in Carnegie Hall and attended wonderful recitals from solo artists as diverse as Perlman, Rostropovich and Ravi Shankar. I have also had the pleasure and privilege to be on the stage of Carnegie Hall, myself, a number of times with a few different orchestras. On two occasions, with two different respective orchestras, I served as Concertmaster and had short solos to play. On two other occasions I was granted special permission to play privately on the stage while a colleague listened out in the hall, to help determine the relative projection of violins that I was comparing. Those experiences were strangely thrilling: Here I stood on the stage of the almost empty legendary hall where the world's greatest orchestras regularly visited, where Kreisler, Rubinstein, and Horowitz performed, where young Jascha Heifetz made his incendiary American debut - and I was daring to break the silence in the hallowed hall by adding my own sounds as best I could! Exciting and eerie!
Some other colorful experiences happened to me just outside the Hall. Along the side of Carnegie, on 7th Avenue, I have seen a number of celebrities over the years going about their business, including Joe Franklin, Ben Stein and Sigourney Weaver. Honoring New York's tradition of leaving celebrities alone, I never said anything to them. But once I saw Ravi Shankar and broke with that tradition. As a musician and, it so happened, as a ticket holder to Shankar's recital for that very evening, I thought it would be OK to greet him and so I did. He was very nice and I told him that I looked forward to his performance later that evening. He thanked me and then asked me if I could do him a favor. I said "certainly, if I can". He asked "could you direct me to the Artist's Entrance?" His assistant chimed in "oh, you have forgotten, Panditji!" I said that I'd be happy to and led the way. When we got to the entrance he asked me my name and thanked me again. I said so long in the traditional Indian way by putting my palms together in a prayerful salute. But he put out his right hand to shake mine, Western style!
Finally, once while walking on 57th Street, on my way to the now sadly defunct music store, "Patelsons" which was just across the street from Carnegie Hall's Artists Entrance, a gentleman stopped me and asked me for help. Judging by his manner, accent and confused look, I assumed him to be a tourist from another country and was happy to try to assist him. "What can I do for you?" I asked. And then – I kid you not – he asked THE question: "Could you tell me how I can get to Carnegie Hall?" I paused for a brief moment to offer a silent prayer of gratitude for this once-in-a-lifetime opportunity and – yes, I said it: "Practice, practice, PRACTICE!" "Whaaaat???" came the befuddled response. "Sorry", I said, "I was joking. We are very close. Just come with me."
May the great music and colorful experiences of Carnegie Hall continue forever!