My Pilgrimage to Cremona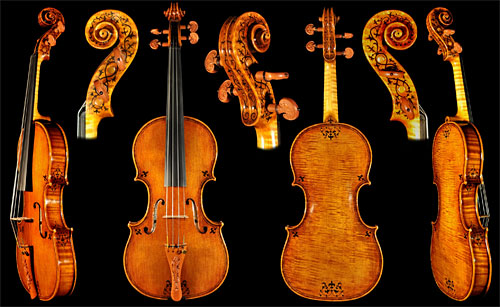 My Vittorio Villa violin 2011 - "Leonardo"

On September 29, 2011 I departed from New York's JFK Airport with my friend, Penny, to make a pilgrimage to Cremona, Italy. Cremona! It's a small town, not far south of Milan, and little known to much of the world. But to violin aficionados, the name spells magic! Here lived and worked the greatest violin makers the world has ever known - Amati, Stradivari, Guarneri del Gesu, Bergonzi and others. They all labored to fashion one of the most perfect objects to ever come out of human hands!

The heart of my trip was to pick up a violin that Vittorio Villa custom made for me. Actually this was the third such violin that Vittorio had crafted for me. He had shipped the first two from Cremona to my home in Brooklyn, New York, and he could have done the same thing again. But I was long overdue for a vacation, so off I went! Not just by coincidence, this was also the time when the Mondo Musica takes place in the Cremona area, and I hoped to imbibe of that as well. The Mondo Musica combines an instrument trade show with concerts and lectures. More on that later.

We arrived at the Milan airport, took a shuttle bus to the train station, and caught a train to Cremona. Vittorio met us at the station and kindly drove us to our hotel outside Cremona (whose various hotel occupancies were bursting at the seams from the Mondo Musica festival) to unpack, and later took us to his workshop in the heart of Cremona. A most picturesque workshop it was, in an old building with high ceilings and fine old paintings. Very soon I was introduced to my new violin. Closely based on an ornamented Amati of 1656, the instrument was incredibly beautiful, with a soft and very convincing golden reddish brown antiquing, harmonious and delicate carving, and - like the original - it had a number of tasteful inlaid ornamental designs, at once understated and gleaming. I soon played my first notes on the violin that I had named "Leonardo". (I had named mt first Vittorio violin "Raphael" and the second, "Michelangelo".)"Leonardo" did not disappoint. The new violin, previously played only a bit by Vittorio and his equally renowned brother Marcello, responded very well, given the fact that it was practically a new-born. It rang out with brilliance, clarity, brightness and sheen, balanced by substance and texture.

In due course Vittorio drove us back to our hotel. We had wanted to take him and his wife out for dinner - but he insisted on treating us! We were joined by his wife and daughter. Both before and after the fine meal, Vittorio took us on a walking tour of some of Cremona. It's a most charming and picturesque town. We saw a monument to Stradivari, were very impressed by the main town square - and even a local pharmacy had some violin icons in its window. Clearly this was my kind of town!

The next day we focused on the Mondo Musica. This took place in a convention center a bit outside Cremona. As noted, it combined a trade show with concerts and lectures. This year there was an equal focus on the piano. While a permanent beginner on this instrument, I am the lucky owner of a well-restored Knabe grand from 1896. It has a beautiful Victorian case made of quarter-sawn oak and a sound to match. So I had a bit of interest to look at the pianos there. A few were very nice, but I must say that I came away from that floor with an even greater appreciation for the piano that I have. Upstairs, we attended a lecture about the composer Campagnoli. The man spoke for quite a while - in Italian. Unfortunately, except for the musical terminology that we all know and a few words and phrases, I have no Italian. But we also got the distinct impression that even had he lectured in English, he would not have been a very interesting speaker. Finally he played a piece by Campagnoli. Well...by the standards of an international conference this was not great playing. I'm sure though, that the man was a distinguished scholar. We left that lecture hall to catch just the tail end of another lecture - this time in English - on certain 19th century Italian violin makers. Too bad we didn't find that one first! There were more such events, but we didn't have a chance to attend them.

But now was the time for the piece de resistance - the floor with the dozens of booths of violin makers all plying their wares. Here I was like a kid already hopped up on candy, and let loose in a giant toy store! One booth after another displayed (mostly) contemporary violins, sometimes other instruments, sometimes bows. In some booths were beautiful reference books with lavish photography - and there was even a huge book with full-size cello photos! I tried quite a few fiddles. I must say that even accounting for their new-ness, most were just OK, though to be fair, of course I didn't try every single instrument there. One exception among the contemporary makers that I tried was the work of one Fernando Salvatore Lima, whose violins displayed both workmanship and tone a cut above the other contemporary violins that I happened to try. But I do think that had Vittorio had a booth there - which he did not - that included my "Leonardo" - it would have stolen the show. Tonally it was bested only by a Guadagnini and a particularly good Poggi that I tried - not bad company! And within the next year I think that this gap will narrow significantly.

The next day we got together with Vittorio again. First we returned to his studio. I wanted to play "Leonardo" again for him to share my pleasure in how it had already opened up within a couple of days of my playing on it- something everyone noticed and agreed on. Then Vittorio took us to the Stradivari Museum and again, so generously treated us! Before getting to the violins, I want to mention that the museum also has many beautiful old paintings which we all enjoyed. But of course there were the violins - and what violins! The combination of loans and permanent exhibits included some of the most famous inlaid Strads - the "Hellier", the "Greffule" the "Ole Bull" and more. There was work of Amati and one violin that I recognized as I approached it from the back - the "Baltic" del Gesu, which I had briefly tried many years ago. There was also more modern work of Forini and others, and many of Stradivari's original tools and molds. It would have been a most fulfilling experience even had I gone there by myself. But imagine having a violin maker as your personal guide, who not only has that special knowledge that even a fairly informed player does not, but who knows every nook and cranny of that museum! At one point Vittorio said with a twinkle in his eye, that he wanted to show us some work by a contemporary maker that he knew very well - it was an exhibit by his brother, Marcelo! It was a most impressive inlaid quartet of instruments.

Later, Vittorio took us back to the town square and we entered the old Cathedral. It was very large and beautiful, with old paintings and frescoes covering almost every square inch of this edifice. Vittorio also informed us that the organ that we were listening to had been played by Monteverdi - that important composer who stood midway between the Renaissance and the Baroque eras.

The next day we took our leave of Cremona, with Vittorio again going out of his way to drive us where we needed to be to make our best train connection. Just for fun,our plans from there were to go on and spend several days in Venice and Paris. They are truly beautiful cities. The movies don't exaggerate. But that is another story...